Partnership
The UK Charity of the Year (COTY) programme is a two year partnership with pioneering charities. The programme has raised more than £24.6 million for 26 charities since it was established in 1999 and has won numerous awards. The bank's partnerships with pioneering charities go beyond fundraising. By enabling the partnership, the programme aims to unlock further value for the charity by helping to build organisational capacity and provide access to in-house resources and expertise that will advance their cause. Our overriding mission for the partnership is to ensure a legacy beyond the partnership.
Charity for 2020-21
From January 2020, we are proud to partner with Hospice UK, the national charity for hospice and palliative care. It works to ensure all adults and children living with a terminal or life-shortening illness receive the care and support they need, when they need it.

Hospice UK works to support the development of hospice care in the UK. By supporting hospice professionals, championing the voice of hospice care and promoting clinical excellence, it helps hospice care providers to deliver the highest quality of care to people with life-limiting or terminal conditions and their families.

Hospices care for people at the most difficult time of their life, providing support for both physical and mental wellbeing. The resources that are made available through Hospice UK are vital for navigating difficult topics, such as death, bereavement and end of life planning. For more information visit the below sites:
What people are saying
"We had always hoped that being a national charity partner of a business the magnitude of Deutsche Bank would be transformational and with a record £1.2m raised in the first 12 months, we will be able to fund more research nurses and, in turn, provide even more patients with access to pioneering new treatments. On behalf of the patients, clinicians and everyone associated with Cure Leukaemia I would like to thank every single member of staff who volunteers, treks, cycles, runs, bakes, quizzes and hacks!"
Fundraising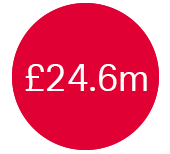 Charity of the Year programme has raised over £24.6 million since 1999 for 26 charities.
One Day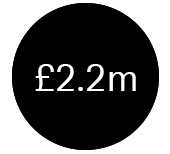 Charity of the Year programme raised almost £2.2 million across two years through the bank's One Day annual fundraising campaigns in 2018-19, where employees donated a day's salary, that was matched by the bank.